Have we approached deep winter yet? Because it sure feels like it.
As I type this, the temperature in Toronto is hovering somewhere around minus seven degrees Celsius, with a wind chill of -17 … which isn't great, but compared to recent weeks is, sadly, not horrid.
Winters here are typically milder than other parts of the country. But it's been a roller-coaster season (everywhere) so far. When we haven't had cold snaps, we've had snow globe-type flurries to keep snowplows (and people who have driveways to shovel) occupied.
My mom's shuttered herself in her apartment, and she's going stir-crazy.
Know who's really had it up to here? Commuters battling traffic and slow transit, bundled like sausage rolls, just trying to get to work on time. Don't even start with them.
And me?
When I'm not sweating as I'm bent over in my outerwear, trying to lace up my boots, I'm slipping and stumbling along snow-covered sidewalks, the cold harsh wind trying its best to sting my legs, while gnawing at my exposed face.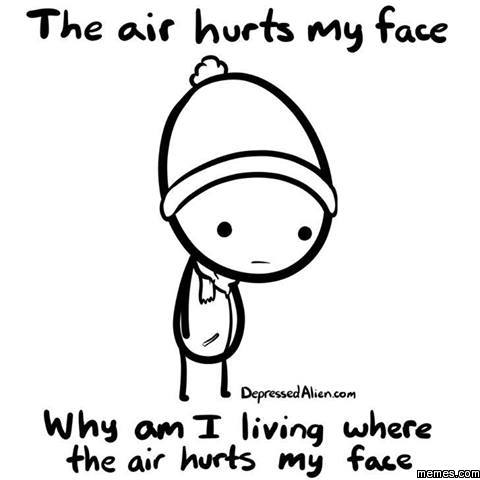 (Dude*,  you have no idea how relatable this comic is right now — thank you.)
I'm constantly tired. Part of it's my own doing. But I attribute the other part to the weather.
And I constantly. Feel. Dry. Everywhere.
If it's not my lips or mouth, it's my nose. And if it's not any of the other holes in or on my face, it's the skin on the rest of my body, which I constantly have to stop from picking or scratching off.
I'm using whatever lotions, balms, and homemade body butters are within reach, and am trying to drink a reasonable amount of water. But this dryness is relentless.
The only thing drier than me and my wrists (my latest fashion accessory: dermatitis bracelets) might be the Sahara Desert.
I fully acknowledge (and can appreciate) that there are folks who love — and live for — winter. Ice-skating, playing hockey, skiing, snowboarding, jogging in the mornings or evenings – any activity that invigorates them, gets that brisk Arctic air into their lungs.
I … am not one of those people.
I simply do not care that I'm Canadian and should be used to it. Every winter that passes, is one more that saps my energy. I'm. Spent.
If it were up to me, my apartment would be a blanket/duvet tunnel, leading into a blanket/duvet cave, from which I wouldn't emerge until the end of March.
For the past couple of years, I did have one (not cheap) coping mechanism.
For at least the first two months of winter, I'd pull on two (or five) layers of clothes and do my best to soldier through the crisp cold weather, doing my best to manoeuvre around coughs, runny noses, seasonal affective disorder and the lack of vitamin D.
But I'd make sure that at some point – in February or March, when I'd had enough – I'd book a trip, board a flight and get my backside to a warmer country. My brain would get a bit of a rest, my skin would clear up, and I'd have a good mood that would carry me for a few weeks.
This year, there's no winter break travel money. So the warmest I'm going to be is under the covers or standing next to the baseboard heaters in my apartment.
Yes, I realize that having the money to travel is a privilege in itself. But as a personal philosophy, I never put myself into debt for the sake of travel (or anything, period). If I can't afford to pay for it, I start saving.
So unless I suddenly trip over $3000, I need to find a bunch of ways to cope until the weather gets warmer.
Perhaps this is the winter I find solace in the art gallery or the museum … or in a lot of movie theatres … because at the rate I'm going, I'm going to be a wreck by April.
So readers who live in cold countries: if you're not the outdoorsy type, what do you do to cope with winter? How do you keep from not going stir-crazy?
And for those whose moisturized skin is defying the cold: what are your secret (paraben-free) weapons?
Let me know in the comments!
*Comic is from DepressedAlien.com.